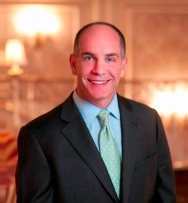 As Chief Executive Officer of The Ashcroft Group, David Ayres sets the firm's business strategy and establishes objectives that will achieve results for clients served by The Ashcroft Group.  With over 25 years' experience in both the public and private sectors, Mr. Ayres has a track record of delivering sound strategies, value-laden solutions and profitable results to world-leading corporations, government leaders and global executives.  His wealth of expertise in strategy and crisis management – including his role in the wake of the September 11, 2001, attacks on America – is of immense value to The Ashcroft Group's global clients.  The unparalleled crisis management experience of Mr. Ayres and the Firm has repeatedly proved vital to corporations facing their own crises, particularly in the areas of regulatory compliance, corporate governance and government-imposed monitorships.
Mr. Ayres co-founded The Ashcroft Group in 2005 with former United States Attorney General John Ashcroft and Juleanna Glover. He swiftly assembled a highly motivated, extraordinarily experienced team, which produces results in high-pressure, high-stakes situations. With a well-earned reputation for integrity, vision and unparalleled strategic analysis, Mr. Ayres quickly led The Ashcroft Group to become one of Washington's most highly respected and growing business consulting firms with clients all over the world.  After leading the expansion of The Ashcroft Law Firm, LLC in 2009 with the hire of four seasoned former US Attorneys, Mr. Ayres ensures that clients have experienced teams with the business and legal judgment to meet their specific challenges.
Prior to co-founding The Ashcroft Group and The Ashcroft Law Firm, Mr. Ayres was Chief of Staff at the US Department of Justice—a $22 billion, 112,000-employee cabinet agency—where he received the Department's inaugural "Award for Strategic Leadership." Following the September 11, 2001 terrorist attacks, Mr. Ayres managed the Department's crisis operations and restructuring of the FBI to sharpen its focus on preventing terrorism. As the Attorney General's principal counter-terrorism advisor, Mr. Ayres oversaw numerous counter-terrorism operations, program reorganizations and policy reforms to prevent additional terrorist attacks. Mr. Ayres also helped design and direct strategies that resulted in record low violent crime and gun crime rates, the lowest teenage drug use rate in a decade, and a wave of prosecutions stemming from the corporate scandals, which rocked the financial markets and the economy. In 2004, the Drug Enforcement Administration awarded Mr. Ayres its prestigious "Administrator's Award for Distinguished Service" for his work reorganizing U.S. drug enforcement strategy.
Mr. Ayres held senior leadership positions for U.S. Senators John C. Danforth, Christopher "Kit" Bond and John D. Ashcroft earlier in his career. Mr. Ayres received his Master of Business Administration from The Wharton School at the University of Pennsylvania and graduated Phi Beta Kappa with a Bachelor of Arts in Economics and Political Science from the University of Missouri.